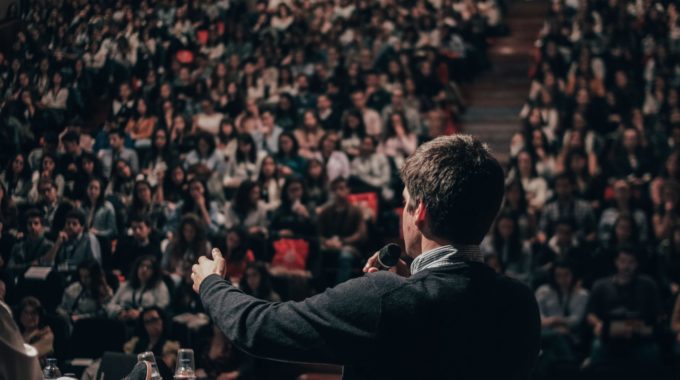 Five Things Every Event Moderator Should Have On Their Checklist
So you're a speaker and you've been asked to moderate an upcoming event. You're hesitant. You know your way around a stage and you're confident speaking in front of an audience. But do you have what it takes to be a moderator?
What does a moderator even do?
To put it simply, an event moderator is the master of ceremonies of an event. They introduce speakers, facilitate question and answer sessions and panels, and keep the sessions on track and moving along smoothly. Not only do they communicate with speakers, but it's also the moderator's job to make sure the audience is feeling heard, by being receptive to their questions and where the conversation should go.
Basically, it's the moderator's responsibility to make sure attendees leave the event feeling as though they are taking away something of value, be it new skills, knowledge, or inspiration.
Before you accept that offer, here are five tips to help you be a great event moderator.
Five things a great event moderator has on their checklist:
Research, research, research.
As the event moderator, you are at the center of the action and will be answering a lot of questions from a lot of different people, speakers, and attendees alike. If you want to appear as professional and polished as you can, do your research so you have all the information you need at your fingertips.
If you're not familiar with the industry or theme of the event, get Googling and make yourself an expert. Also, research the backgrounds of all the speakers on the agenda so you know who you're dealing with and who you're introducing.
Get to know the speakers.
It really helps the energy on stage if you have already established a rapport with the speakers you are interacting with. So make sure you set time aside to speak to each speaker before the event. It will make your time on stage together more natural and easeful.
Planning an event? Overwhelmed? Our event planning checklist can help!
Be in tune with your audience.
It's your job to keep the audience happy, to anticipate their moods and needs. Basically, learn how to "read the room". A poor moderator doesn't check in with their audience and just barrels ahead with the agenda. Make sure to keep an open line between you and the audience—you are the bridge between them and the speakers, so be receptive and open.
Know your agenda inside and out.
As the linchpin of the event, it's crucial that you know your agenda intimately. You don't want to be checking schedules constantly and on the fly throughout the day as you are dealing with issues and speakers at the same time—not only will it waste time but it will make you look really unprofessional. So make sure you study the agenda thoroughly so you know it intuitively by the day of the event.
Make sure the speakers are the center of attention.
While you may be the linchpin and the center of the action, one thing a moderator can't be is the center of attention!
The speakers of the event are the stars of the show, not you. So while it is up to you to keep the event running along smoothly and to be the bridge between the attendees and the speakers, you must do so without stealing the show. We know that as a speaker this may be difficult for you! Here's a tip: if you have something interesting to add to a conversation, pose it as a question rather than a speech.
Even if you're a professional speaker, the skills and knowledge you'll gain from being an event moderator will be worth it. Let us know in the comments if we missed any important tips for event moderators!
We've spent years at the Speaker Exchange building relationships and making connections. If there is a speaker on your wishlist who isn't on ours, let us know and we will do everything within our power to make it happen.
Enjoyed this article? Here are three other popular posts you might find useful:
Keep up with event industry trends: 27 essential terms you need to know.
How to create viral stories at your next event.