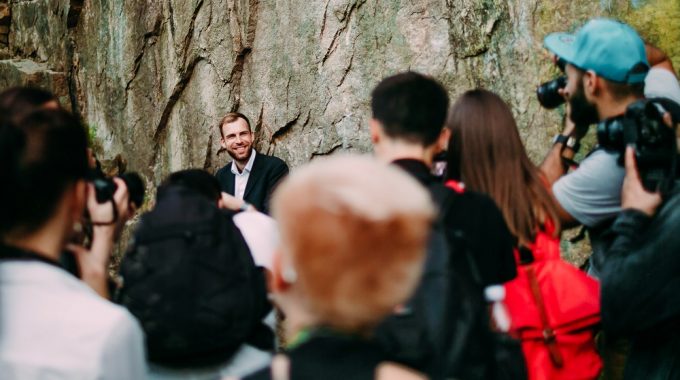 5 Steps to the Perfect Celebrity Meet and Greet
You've landed a celebrity at your next event. Great!
Now what?
You want the celebrity to be comfortable, but – more importantly – you want your delegates to have a great experience. There is nothing worse than a celebrity primadonna going AWOL because their Salmon Tartare was salty or delegates getting treated as second class.
Recently one of our clients hit a home run with a celebrity meet and greet / photo opportunity. Everyone was happy: delegates got their photos, the celebrity enjoyed the experience and the event finished early. It was a home run.
Let's look at 5 ways to make sure YOUR special celebrity opportunity is a home run as well.
1. Pre-event: Having a well-known author, actor, singer or politician coming to your event can be a big bonus for selling tickets. Take advantage of this opportunity!
Ask for a quick video you can use on social media or ask them to share your event on their social channels – one tweet can go a long way!
Pre-event is also the time to clarify with their handlers what you expect to happen at your event. If you need a book signing – ask for it. If you need a short speech on stage – ask for it.
There is never any harm in asking! Handling your next event – including your celebrity showing – is what we love to do! Let us help you make your next event a big success starting with our Hometown Heroes.
2. Set Expectations: Let your attendees know what to expect! You can avoid a lot of problems but simply announcing how YOU want this event to happen.
Where will people line up? Is there a table set up for the celebrity? If they are buying books, can they purchase it first, before going for the signing?
If taking photographs, who will take the pictures? How many pictures will be taken? If you are using a professional photographer, do you want to restrict cell phone pictures?
3. Provide Security: You might not need formal security ("The Eagle has entered the building") for your celebrity meet and greet, but you should rally extra staff and volunteers. Again, clear expectations will avoid lots of confusion and disappointment.
Have a point person you can delegate this part of the event—you need to focus on what's next on your agenda.
4. Provide Pre-Signed Books: Individually signing books is a nice touch, but it might mean some delegates never make it to the celebrity table before the next event starts.
Instead, ask you celebrity to pre-sign books and have them for sale. Once the attendee has their photo taken, they are given a gift bag with the book and can be on their way. Shorter line-ups might mean everyone is on time for the next event on the agenda.
5. Think of Small Things: Here's a simple idea: our client had a drop off point for purses and jackets. While attendees are waiting to get their photo taken they set down any items they don't want in the picture and then stepped into the photo area.
There was a volunteer who moved the items down the table so when the person was done with the photo, their belongings were ready to go!
Remember, this is your event. Celebrities will come and go, but your priority should be to have delegates return year after year because they had a great experience.
Enjoyed this article? Here are 3 more to help you design the perfect event:
Why work with a speakers bureau?
From "Amazon" to "Zuckerberg:" Denise Lee Yohn's List of Brands to Watch
The Speaker Exchange Agency Water Filter Build!