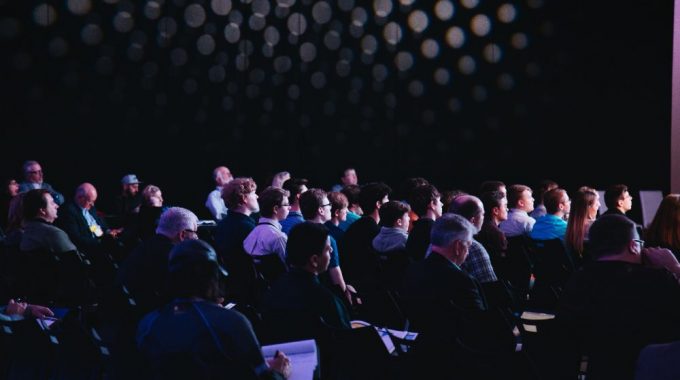 Keeping Up With Event Industry Trends: 27 Essential Terms You Need to Know
Event industry trends move fast. As a result, meeting planning and events industries are exciting ones to be part of, with lots of opportunities to grow and be rewarded. 
The event industry growth we're experiencing right now means there is a fast intake of new talent to climb the ranks and test their skills. But it can be challenging to keep up with all the ins and outs of a complicated business that has as many moving parts as the events industry.
Are you one of these people? Maybe you're starting a new career in planning, or you've been in it for awhile but want to expand your portfolio.
It's important to keep up with ever-evolving event industry trends.
With so much new technology and standards of practice constantly coming into play, as well as new social media platforms influencing the tastes and needs of attendees and speakers alike, there's a lot to be gained by sounding as relevant and knowledgeable as possible, when pitching to clients or peers or just talking about what you do at a casual event. 
To help you keep up with event industry growth and sound like the professional meeting planner that we know you are striving to be, we've compiled a list here of some terms and lingo you need to know to sound as knowledgeable as possible about your new passion: planning!
Keeping up with event industry growth: 27 essential event planning terms.
Emcee/MC


Shorthand for Master of Ceremonies. This is the individual, often someone high-profile or a professional speaker, who presides over the entire event. They are the "face" of the event.

 

Lavalier

A type of microphone commonly used by speakers on stage who are moving about freely. They are wireless and attach to the clothing of the wearer.

Plenary

A meeting at a conference that is attended by all attendees, where otherwise they are split into smaller groups.


Venue

This is where your event is held. It can be anything from a hotel, to a community center, or even a large conference center. 

Conference Pack

A package of materials that contains information about the conference, such as schedules, venue details and maps. Many conferences are now offering event apps as well as or instead of conference packs.

Keynote

The keynote address generally occurs at the top of the event, to set the tone and get the attendees pumped up and motivated. The keynote speaker is often a well-known person or player in that particular field, who also acts as a draw to the event.

At The Speaker Exchange we take care of the most important part of your event planning—the experts on the stage. We take the time to learn about your upcoming event, audience, past events and ideal outcomes. From our first phone call to your final event moments we want you to have a seamless experience, reassured that our talented team have got your back.

Workshop, seminar, breakout, concurrent sessions

These are sessions that occur concurrently, or as complements to, the main events and sessions. Attendees can decide which sessions they want to attend.

Honorarium

Payment given to a speaker or participant who is working on an officially volunteer basis.

Breakdown / Load Out / Strike

The breaking down and packing up of the equipment and all other aspects of the event.

Load In

The period before the event dedicated to hauling in and installation/set up of the equipment and items involved with the event.

Day Delegate Rate (DDR)

The rate charged by a venue which is calculated according to the number of attendees per day at full capacity. The cost can include the equipment use, lunch and refreshments among other things.

Early Bird Registration




Often tickets purchased early for an event are offered at a reduced cost.

 

Master Account

This is an account, often set up by the planner or host, to which all costs for a specified group will be charged.

No-show

A no-show is anyone, including attendees, speakers and delegates, who does not arrive to the event and fails to inform the organizers beforehand.

Post Event Report

A detailed document which lists all the particulars of an event, after the fact. It includes total number of attendees, profits made, incidents, no-shows, etc.

Post Event Feedback

In order for event planners to fully benefit from the event they just completed, they provide the chance for attendees and others to offer suggestions, notes and advice around the event, both positive and negative.

Pro Forma Invoice

An invoice which a service provider issues prior to delivery.

Request for Proposal (RFP)

Prior to the event, in the early planning stages, a meeting organizer will send out RFPs to potential service and product providers. This request includes all the specifications and particulars of the event and allows vendors to submit proposals to fit those needs.

Force majeure clause

One of the biggest concerns of event planners is no-shows. We can cover you for last minute changes like a speaker who misses her flight or has health issues. Our Speaker Exchange team and deep pool of highly screen presenters have you covered.

Traffic Flow

Sounds like cars out in the parking lot, doesn't it? Wrong! Traffic flow in this context means the flow of participants through the convention space itself, as they move between different rooms and areas of the event. 

Attrition Rate

This is important to planners as often an "attrition clause" will be included in rental contracts for space or hotel rooms. The attrition rate is calculated by dividing the number of no-shows with the number of registrants of the event.

Blackout Dates

During high-traffic times such as holidays or during large events, venues and hotels can employ blackout dates, which means that certain rates, space or tickets are unavailable for a set period of time.

Cancellation Clause

In a contract, this outlines the terms and conditions that allow a company to terminate their agreement. 

Colloquium

An informal meeting or seminar.

Incentive Travel

A fairly new way for employers to motivate staff and one indicator of evolving event industry trends, they offer them travel packages as performance incentives.

Rider

Oftentimes speakers will have stipulations about specific backstage requests in regards to refreshments and other particulars. This is called a rider.

Comp Rooms

Comp rooms are extra spaces or rooms provided free of charge by a venue when a planner books a larger group of rooms.
While certainly not an exhaustive list, these terms will get you started on your road to being a professional, well-informed event planner.
Good luck!
Enjoyed this article? Here are three more to help you prepare for your next event:
Event Industry Trends in 2020
5 Steps to the Perfect Celebrity Meet and Greet
Why work with a speakers bureau?