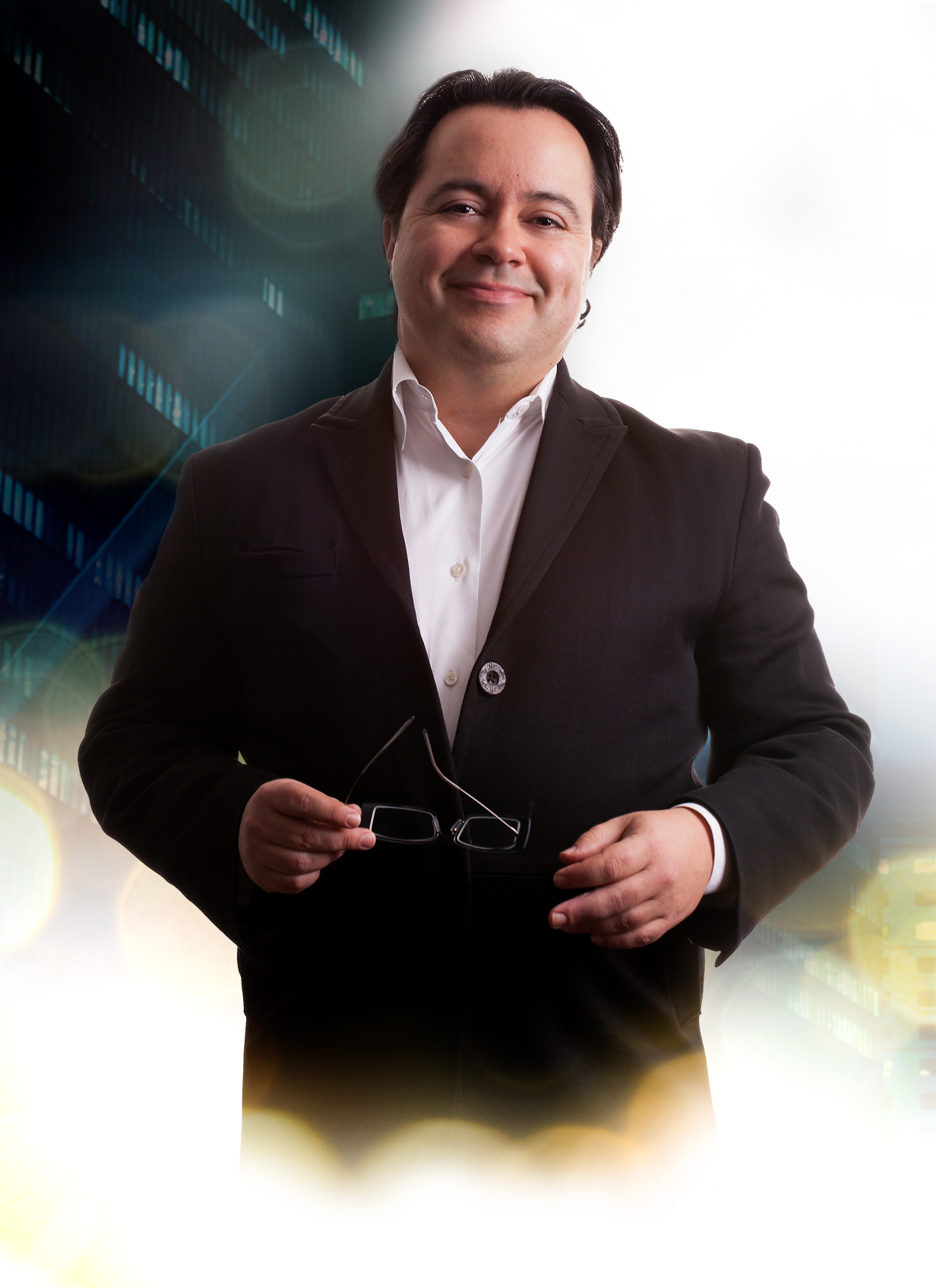 Nelson Cabral
Creative Leadership Expert
writer

producer

singer

actor

creative director

brand guru

entrepreneur

filmmaker

showman
When no single job description suffices to describe a certain someone, a hyphenate is mandatory. Nelson's hyphenate goes something like this: writer-producer-singer-actor-creative director-brand guru-entrepreneur-filmmaker-showman. 
Nelson is driven by a passion for creativity – and results. A successful and award-winning Business Leader and Senior Executive in the creative industries of advertising, marketing, design and entertainment for over 20 years, Nelson understands the challenges of maximizing the flow of creativity and innovation in individuals, teams and organizations – and that leaders can no longer accept stale and outdated thinking. Nelson believes creativity is the new primary driver of success.
Having spent the better part of his career leading creative teams and inspiring breakthrough creative thinking, he now works with business and senior executives to design, implement and hone their employees and teams to unearth higher levels of creativity. Whether helping a leader design an inspired culture of creativity or working with a team to improve their productivity, Nelson's results have attracted clients such as TBWAChiat Day, The Lowe Group, SABIAN Cymbals, Latin Percussion, Hudson Creative Agency, NB Power, and Hemmings House Pictures.
Nelson is also a Creative Director, Filmmaker, Brand Innovator and Workshop Facilitator, having provided breakthrough Creative Leadership on global Fortune 500 brands such as adidas, Kellogg's, GE, Bridgestone/Firestone, Proctor & Gamble and Toshiba.
A natural performer with strong stage presence, Nelson has been called highly creative and imaginative, but strategic and business-minded. Time and time again, clients who work with Nelson note his passion and commitment, and his personable, dynamic and no-nonsense approach to inspiring greater creativity and innovation at employee and organizational levels. Always with an eye to results, Nelson has become renowned for his use of imaginative and time-tested concepts and practices to increase creativity and innovation.
Nelson has been professionally speaking since 1989, is distinguished as a certified member of the Canadian Association of Professional Speakers (CAPS) and Canada's professional performers union, ACTRA, and is a member of the Global Speakers Federation (GSF). Progress Magazine has named Nelson and his creative marketing firm CABRAL Creative a "Fastest Growing Company", having recently landed #2 on the ONES TO WATCH list, with 1227% growth.
The Creative Storm: Unleashing Your Organization's Creativity To Drive Maximum Team And Organizational Success
Today, companies are caught in an ever-escalating battle for competitive edge, and many organizations are struggling to fulfill their creative potential. This is a time everyone is looking for an extra something to win in the market. The good news is that most businesses and individuals don't lack raw creative talent—what they lack is a process for unleashing it. In this highly engaging presentation, Nelson teaches how to inspire, deliver, and keep creativity and innovation raging. Instead of the newest theories from research into creativity, you will learn concrete instructions which you can use in practical situations. Nelson draws on his experiences, challenges, and successes working with a great variety of teams and organizations to present a practical and realistic guide for leaders wanting to allow a brilliant "group brain" to develop. The Creative Storm is a remarkable program that reveals the three keys to maximizing an organization's potential: leadership, culture, and personal creativity. 
Increase business and personal performance by implementing 9 immediately-actionable creative leadership strategies: The Nine Forces of Creative Leadership™ 

Boost quality and quantity of creative breakthroughs by creating more effective team relationships and interactions

Achieve new heights of innovation by leveraging higher level creativity in yourself and your organization
The Creative Storm: The Leader's Role – How To Be A Stormin' Norman & Ignite Creative Leadership In Your Organization.
For a leader of a company powered by creativity, enhancing the productivity of your workforce can seem daunting. If you want to gain greater creativity from your teams, and know they need a jolt of creativity, then this unforgettable presentation is a must experience. In this realistic creative leadership guide, you will learn how to manage, inspire and organize more collaborative, creative, and successful teams. Whether you are a team leader or team member, this presentation will help you and your teams save time, money and nervous energy in the hunt for ideas. Highly useful for any team leader in increasing the creativity, and ultimately, the results of a team and organization, Nelson reveals his approach on being an effective creative leader. 
Drive growth and innovation by building your inspirational and collaborative leadership skills, tools and mindset

Consistently build and inspire winning teams to drive breakthrough creativity using proven creative management tools

Ramp up and keep your team's energy fired up so they never lose their mojo
The Creative Storm For Women Leaders: How To Accelerate The Rise Of The Female CEO
The Creative Storm: Personal Creativity – Becoming A Storm Trooper & Fast Idea Generator, Frighteningly Efficient & Productive As Hell
Business creativity is all about finding fresh and innovative solutions to problems, and identifying opportunities to improve the way that we do things. As such, anyone can be creative, just as long as they have the right mindset and use the right tools, in an environment that is nurturing. But everyone has their own challenges to unlocking their own personal creativity. After countless conversations with creative people, and leading creative teams for two decades, Nelson's realized that most creative people learned their skills in completely individual ways and are not conscious of the processes they use. In this interactive presentation, Nelson shows participants how to discover their own creative spark and ramp up their own creativity. Using powerful examples from his own career as an advertising copywriter, creative director and film director, Nelson shares his remarkable model for increasing creative potential and producing a bigger catch of valuable ideas. 
Ignite more creative breakthroughs and get unstuck faster by making small changes to your creative process

Become a fast idea generator – becoming frighteningly efficient and productive as hell – by enhancing your arsenal of creative techniques

Value-rich take-aways with no theory, no fluff, no bull
The Creative Storm: The Creative Culture – Blowing Away Barriers That Stifle Creativity To Keep The Innovation Raging!
Some of North America's most lauded leaders in business have suggested a "culture of creativity" has been the key to their success. The magic ingredient to unlocking creativity?  Environment. In this insightful and empowering session, Nelson shares proven practices to help you build, maintain, and nurture a creative culture. He uses personal and professional experiences to reveal the key components needed to create an environment for people to be creative. Changing your work culture,  and unlearning and selectively breaking down barriers and forgetting past success formulas could be your key to igniting business success. The only way to sustain long term innovation and growth in an organization is by ensuring a storm of fresh, creative ideas flow from every level of your organization – by co-creating future processes, products, and services. 
Create a brilliant "group brain" by tapping into the creative genius inside everyone on your team

Drive growth and profitability by blowing away the biggest barriers to creativity in business

Out-think, out-perform, and out-maneuver the competition using proven practices to maintain an unstoppable and dynamic corporate culture