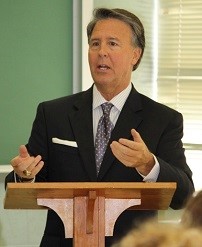 Life Stories from more than 40 years of working all aspects — with all levels of access — in sports and entertainment
He is one of a few, if not the only person who has held high executive level positions in the National Football League (NFL), National Basketball Association (NBA), National Hockey League (NHL), PGA Tour, PGA Champions Tour, Ladies Professional Golf Association (LPGA) and Professional Baseball.

In his more than 40 years in the sports and entertainment industry he has sold over $100 million in corporate sponsorships from escalators to port-a-johns, fan trams, sound meters and even to a cemetery. He is also the Author of "How to Sell Sponsorships, Tickets & Popcorn."

He has worked in every capacity of the sports and entertainment industry starting from the ground floor as a teenager sweeping the aisles and grandstands of Mile High Stadium (with a broom) after sporting and entertainment events to being a ball boy in the American Basketball Association to selling popcorn and hot dogs to becoming a general manager of a professional baseball franchise.

At 24 he was the youngest executive in professional sports and entertainment as he was a member of the design team and Ticket Manager of the world's 3 domed stadium – The Kingdome in Seattle.

He has interacted with League Commissioners, Team Owners, Managers, Coaches, Promoters, Hall of Fame Players and two United States Presidents. His recollections are Life Lessons that are interesting, humorous and uplifting.

He is also the owner of a concessions franchise that sells specialized products at MLB games and a multitude of other sports and entertainment venues.  
*Fee ranges are presented as a guideline only. Speaker fees are subject to change without notice. For an exact quote, please contact your Speaker Exchange Agency representative.