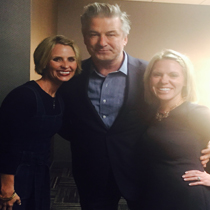 The Art of the Celebrity Meet and Greet
Julie and Brittanny had the opportunity to work with Alec Baldwin in Las Vegas at a client event this month. Meet and Greets are typically an essential part of any event with a celebrity and they can set the tone for the event. This meet and greet was exceptional at this event and there were a few things that the client did to ensure it went as smoothly as possible:
Expectations: Expectations with VIP's were set up-front. Attendees knew there would be a professional photographer on-site and they were given specific instructions on when and how to obtain their photos. There were no pictures on phones allowed and not one person attempted to take one nor were they questioning where to get their photo afterwards.
Size: VIP's were brought into the room in groups of 5 which made it less overwhelming and kept the atmosphere relaxed.
The Celebrity: Alec made the Meet and Greet enjoyable by asking VIP's where they were from and then telling a story about that city or a friend who lived there or a restaurant he loved. Alec made each person feel special to be at the event and although everyone moved through at a quick pace, not one attendee felt rushed out of the room.
Although some factors cannot be controlled at Meet and Greets, if you are able to set expectations with your celebrity and your guests and ensure they are relaxed and are able to enjoy their time at the Meet and Greet you will set yourself up for success!
Have any other great Meet and Greet Tips? We'd love to share them in a future newsletter. Email us: info@speakerexchangeagency.com