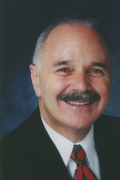 Managing Partner of a Franchise, Inspires Leadership Excellence
Managing Partner of Louisiana's first Jimmy John's Franchise Restaurants in Baton Rouge. The fastest growing Q.S.R. chain in the U.S.
Franchisee with 7 Jimmy John's Restaurants
Served two terms as an elected Board member of the National Speakers Association.
One of less than 800 Certified Speaking Professionals in the world.
Has made keynote presentations in all 50 states.