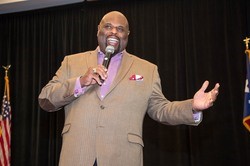 Dr. Rick Rigsby: The speaker everyone's buzzing about
Here at the Speaker Exchange Agency, we've always got our ears to the ground listening for the sound of a hot new speaker.  And this month, Dr. Rick Rigsby has caught our attention!  Dr. Rick Rigsby is President and CEO of Rick Rigsby Communications. Through motivational speaking, corporate coaching, books and social media outlets, Rick encourages and empowers audience members to become great people who do great things.
One of his motivational speeches, "The Wisdom of a Third Grade Dropout," was published on Youtube in early October and has gone viral with over 1,000,000 views.  Watch it here!  We have seen interest in Rick skyrocket on our website, and we love this article by Earnthenecklace explaining his recent popularity.
Ready to book Dr. Rick Rigsby?  Contact us today!