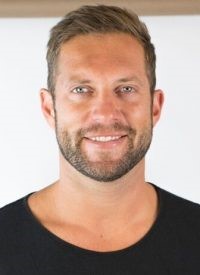 Sebastian Terry
Sebastian's incredible story has grown from an entertaining tale of adventure into a global philanthropic movement
'In case of an emergency oxygen masks will fall from ceiling. Please put yours on first before helping others'
How the story of one man and a list of things he wants to achieve turned into a worldwide movement that saves and enriches lives? 
Known worldwide for pursuing an incredible list of 100 Things that he wants to achieve before he dies, Sebastian Terry's story is surprisingly not about a bucket list. It's about something more far reaching; permission, choice, growth and connection. 
Affected by a curious mind and the death of a close friend, Sebastian experienced a moment in his life where he asked himself a simple question; 'Am I happy?'. The answer was NO and so he decided to pen down a list of 100 Things that he'd always wanted to achieve. 
Following his heart and armed with nothing but a list, Sebastian's incredible story has grown from an entertaining tale of adventure into a global philanthropic movement that engages a growing tribe of hundreds of thousands to not just set meaningful goals, but pull the trigger and achieve them- all whilst helping others do the same. 
"I thought initially that it would take me 100 Things to reach a state of fulfillment but it's taken me 72 things to realize that 'ticks' are just the beginning. The key to growth and happiness is finding out who you are on a primal level and then being that person, each and every day. This idea of internal understanding leading to external productivity is the same for an organization." 
Turned into a best selling book ('100 Things'), a Discovery Channel documentary ('100 things to do before you die') and most recently a US-based reality TV show ('100 Things) where Sebastian travels the world helping complete strangers achieve their specific dreams, 100 Things inspires people and organizations to gain perspective, think big and be the best they can be on every level so that others can follow suit. 
From marrying a stranger in Las Vegas, delivering a baby in Canada and even representing the Mauritian national rugby team at the African Championships (they won!), Sebastian's most profound moment was when he was first contacted by a suicidal stranger who needed help. 
100 Things is no longer about one person, it's about everyone. 
Guaranteed to make you laugh, cry and inspire motivation, the 100 Things keynote is like no other and will re-engage, connect and inspire your organization to move forward as one. 
What's on your list?
The 100 Keynote Presentation
What started with an invite to speak at a primary school in rural Canada has now turned into one of the most sought after keynote presentations in Australia.
Purpose – Growth – Connection
Appealing to the core of everybody, the 100 Things keynote has influenced hundreds of thousands of people from students to CEO's throughout Australia and beyond. Delivered in all 7 continents, Sebastian's presentation offers perspective to individuals to assist them in finding purpose whether it be on a personal level, a business level or within the greater community.
Testing the limits of the notion; "What can but one person do..?", Sebastian Terry is genuinely driven by a desire to help people and spread positivity throughout communities.
In the past seven years, Sebastian ('Seb') has traveled the world ticking over 71 items from his 100 Things list in a pioneering and courageous personal journey that has become a public campaign to evoke change in lives and communities. Delving a lot deeper than just the creation of list, this movement has now acted as a catalyst for the concept of 'People Helping People', where by strangers world wide now reach out and help one another. All of this has been translated into an internationally sold book now translated into 3 languages (so far!), a world-wide documentary with a leading adventure channel, a US-based TV Reality Show and an ever-evolving keynote presentation.
Drawing on stories and reflections from his inspirational book '100 Things', Sebastian discusses the issues on the minds of many people in today's complex world; including:
Goal-setting;

Perspective;

Fulfillment;

Resilience;

The positivity that emerges from adversity;

The wonder of stepping out of one's comfort zone;

Personal empowerment and development;

Process of achievement;

The art and power of helping others through leadership and community; and

Much more (topic and theme requests happily accepted)
Seb incorporates visual aids into his talks and highlights powerful and profound messages with dynamic, interactive, and humorous delivery. Depending on time, a member of the audience might even have the opportunity to attempt to break a Guinness World Record live on stage!
Seb tailors his talks to the individual requirements of each client. Average talks can vary from 20 – 90 minutes, Q&A's and book signings are optional extras for those who want them.
"Seb's presentation to our Snap Fitness Aust / NZ Business Summit was an absolute game changer!
Without a doubt, this presentation has left our people with a heightened sense of purpose and clarity for the important things in life. Seb has a very unique ability to tell stories and connect with the audience though a genuine but very slick delivery.
Very rare do you come across a business presentation that leaves you changing the way you look at things. Seb had the crowd in both tears and hysterics, he really does know how to move people!
We were very lucky to have Seb in 2016 and I will recommend him to any other group who wishes to leave a lasting and powerful message with their audience."
–Lift Brands Australia
"He was thought provoking and challenged the group to chase their dreams be it personal or professional. Working with Sebastian was easy on the day, he was approachable and I would recommend his presentation to others. We conducted a brief survey of all participants covering all areas of the whole event. 93% of respondents noted that Sebastian's presentation was inspirational to them and it was one of the highest enjoyed sections of the event based on the same respondents."
—McDonalds
"Sebastian is an inspiring, down to earth and entertaining presenter. His story is truly touching, delivered with confidence, humility and humour. He's incredibly easy to work with and his delightful and cheeky nature is infectious, spreading through to his audience to generate a memorable keynote. I highly recommend Sebastian."
—ING Direct
"As the last speaker at a full day event, Sebastian had quite the task ahead of him when presenting to a conference-weary audience. Sebastian instantly lit up the room, and re-energised the crowd with his captivating story, getting them fired up to take on the world! A big thanks to you Sebastian, on behalf of the Airtasker team."
—AIRTASKER
"Sebastian Terry presented to our top 400 clients in MAY this year. Our clients thoroughly enjoyed Sebastian's inspiring presentation and were left motivated by how easily they could adopt his approach into their everyday life's – both professionally and personally. Sebastian's style was very warm and welcoming and the audience loved him."
—Kao Australia Pty Ltd
"Sebastian's workshop lit a fire under my ass! I thought I had no outstanding desires, what I found was that I had desires that I had forgotten about. His workshop made me realize 'why not now?' It was also such an amazing bonding experience with my employees. Hearing their lists gave me insight on how I could help them achieve their dreams which is my favorite—and they saw how they could help each other! It was a win-win-win!"
—Poo-Pourri